Contribute to the world with high quality technologies and abundant experiences.
NAGAOKA SCREEN INTERNALS
Nagaoka Screen Internals are used in the heart of oil refining, petrochemical and chemical fertilizer complex.
Screen Internals are installed inside the reactor,
playing an important role in chemical reaction, extraction and separation from oil and gas.
Hence, Screen Internals are operated under high temperature, pressure and corrosive environment,
requiring high strength and precise design, which can only be achieved with high technology and cultivated experience.
Process of making chemical products.
Distillation Column

Reactor / Internals

Products in Daily Life
Reactor / Internals
Internals are utilized at various Chemical Plant for the process of catalytic reaction and chemical adsorbent / extraction / separation to produce basic chemical materials like Propylene, Para-xylene, Gasoline, Naphtha etc. all are inevitable for our life.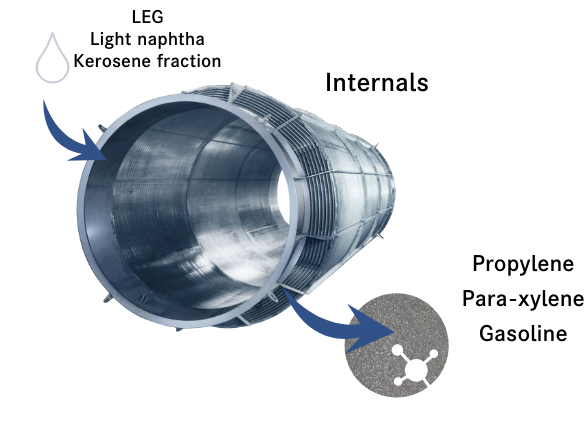 Internals for Reforming Reactors
The reactors for the reforming units with continuous regeneration are one of the reactors in the oil refining and petrochemical processes, in which activated catalysts are sent to subsequent processing equipment for regeneration. Both these reactors and regenerators are "Radial Flow type" consisting of inner and outer catalyst support baskets, for which the NAGAOKA SCREEN BASKET is recommended by the leading process owners as the most suitable internals for process efficiency. NAGAOKA SCREEN facilitates smooth catalyst movement without clogging and less damage to the catalyst due to the continuous vertical slots and smooth surface.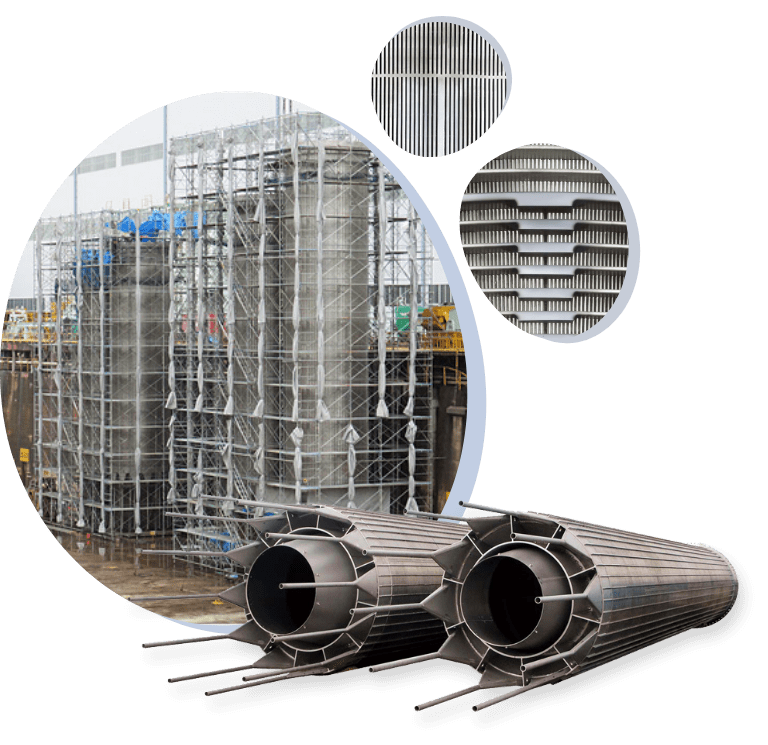 INTERNALS for RADIAL FLOW REACTOR

NAGAOKA SCREEN INTERNALS have perfect feature for the catalyst support on radial flow type reactors during refining and petro-chemical processes, with its durable structure. NAGAOKA SCREEN INTERNALS offer high performance under severely high temperature.

INTERNALS for Down Flow Reactors

For down flow type reactors, NAGAOKA SCREEN INTERNALS are used not only for catalyst support, but also for molecular sieve support, ion exchange resin support and other applications. NAGAOKA SCREEN bed support is widely used at the variety of process in refining, and petro-chemical industries. Since the bed support must be capable of withstanding significant catalyst load and drop in pressure, a strong structure is required for the support. NAGAOKA strives to be involved from initial stage of the design for our customer and process owner, optimizing the production and contributing to reliability of the process.
One of the Few Qualified Suppliers for Screen Internals Supply Over the World, the Only One in Japan

Internals are one of the most critical component in oil refining process. Only three companies are approved by Process Licensors (UOP and IFP / Axens, etc.) for the manufacturing of Screen Internals around the world. Few suppliers in the world and NAGAOKA in Japan. The Process Licensors issue license of patents and basic design of oil refining and petrochemical complex to Plant Owners. The use of "Certified" Screen Internals manufacturer are the necessary condition for performance guarantee of oil refining and petrochemical complex by the Process Licensors.

Approved by Process Licensors

1976 IFP/AXENS (Axens)
1978 UOP LLC (Honeywell UOP)
1978 DOW CHEMICAL
1981 BADGER / STONE&WEBSTER
1981 ABB LUMMUS (Lummus Technology)
1990 KELLOG/ KBR
1991 TOPSOE
2006 Shell
2006 Chevron
2009 TOPSOE requalified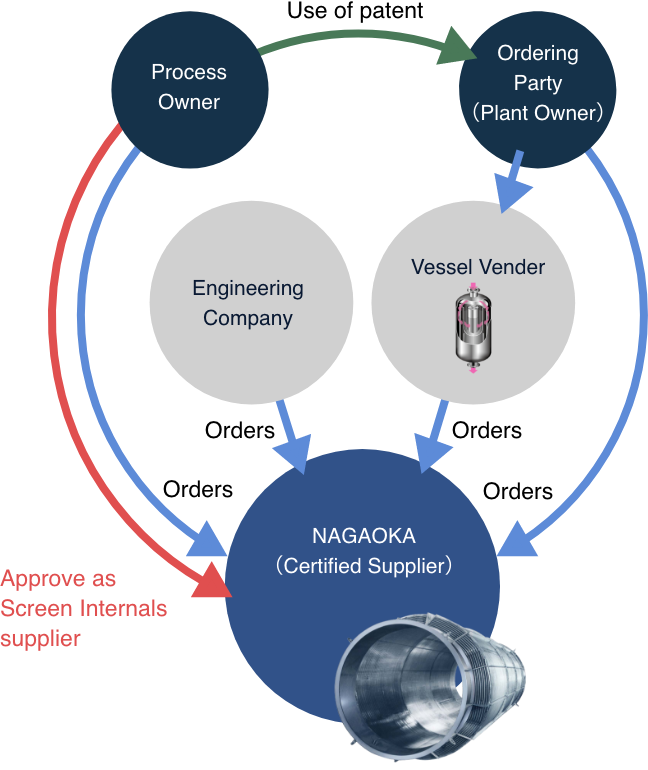 Cooperative Development with UOP LLC

In 1990, NAGAOKA has made a Cooperative Development Agreement with leading process licensor UOP-Honeywell, since then NAGAOKA has contributed to development of internals in various process. By year 1999, NAGAOKA has co-developed Profile Wire Scallop with UOP-Honeywell, and already applied successfully in numerous refineries.

1990

Engineering Development Agreement

1999

Development of New Profile Wire Scallop

Technical Service

NAGAOKA provides technical service for on-site inspection, installation, maintenance and replacement at turn around in pursuit of customer satisfaction.

Delivery record

1.Adsorbent Chamber (Manufacturing materials for chemical fiber, plastic bottles, etc.)
2.OleflexTM Units (Manufacturing materials for chemical fibers, tires, etc.)
3.Styrene Monomers (Manufacturing materials for resins, plastic, etc.)
4.Reformers・Regenerators (Manufacturing materials for high-octane fuel)
5.Ammonia Converter (Manufacturing materials for chemical fertilizer)

Supplied 65 countries worldwide, and continuously striving to develop new process unit

NAGAOKA SCREEN INTERNALS play a pivotal role in chemical reaction, extraction and separation in oil refining, petrochemical and chemical fertilizer plants. NAGAOKA SCREEN INTERNALS are supplied to 65 countries around the globe, and are operated successfully. High quality of NAGAOKA Products are acclaimed by many process owners globally, and agreed to cooperate for mutual development of new process. Hence, NAGAOKA has great potential and opportunities to expand.